Welcome to
Advanced Paranormal Services
Advanced Paranormal Services makes paranormal events, our Supernatural Hour podcast, and related products available to people interested in the strange, supernatural, and paranormal.
Click here to go to our shop.
Become a Supernatural Hour Insider at patreon.com/supernaturalhour.
Paranormal Investigation at the Leavitt's Aultorest Memorial Park (Cemetery) in Odgen
Saturday, October 22 at 8:30 PM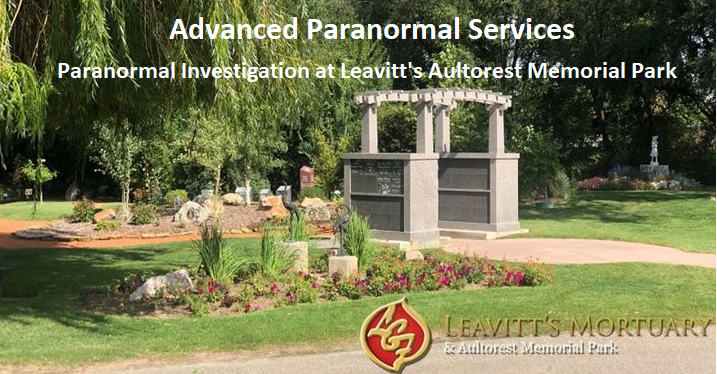 Click the left thumbnail below (or the Top thumbnail if viewing on a small screen) to purchase tickets.
Saturday
"Dead Talks, a Paranormal Experience" at The Towne Hub Theater
Saturday, October 29 at 7:00 PM
120 West Main Street, American Fork, Utah, 84003
We are offering two ticket types for this event.
The $35 ticket includes the presentation & the investigation of the Towne Hub Theater and is limited to 25 ticket holders.
The $10 ticket includes only the presentation.
Click the right thumbnail below (or the bottom thumbnail if viewing on a small screen) to purchase tickets.
For information about past events, see our Completed Events page.
Free October Events
Free Residential Haunt
(Click here or the link above for more information including a YouTube video of a previous year's haunt.)
2817 W 950 N, Provo, Utah
Friday, October 28th and Saturday, October 29th (8 PM – 11 PM)
Monday, October 31st (8 PM -10 PM)
Library Presentations
Please contact the library to check for times & availability.
Thursday, October 13th, Central Park Community Center, 2531 S 400 E, Salt Lake City, Utah, Phone: 801-412-3208
Friday, October 14th, Chapman Library, 577 S 900 W, Salt Lake City, Utah, Phone: 801-594-8623 (5:30 PM)
Friday, October 21st, American Fork Library, 64 S 100 E, American Fork, Utah, Phone: 801-763-3070
Wednesday, October 26th, Springville Library, 45 S Main Street, Springville, Utah, Phone: 801-489-2720
Friends of Advanced Paranormal Services